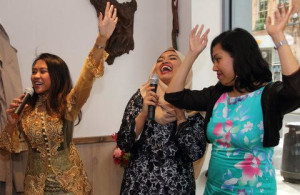 Selamat Hari Raya! Eid Mubarak and Salam Lebaran! Join SUKA, Singaporeans and friends to celebrate Hari Raya and enjoy good company, good food, fun entertainment and great raffle draw and prizes.
Date: Saturday 15 July, 1.30pm-4.30pm
Venue: Melur Restaurant, 175A Edgware Rd, London W2 1ET
Ticket price: £25 for SUKA Members, £30 for SUKA non-members*, free for children under 5
(*please note that only members who have paid SUKA membership fee qualify for the discounted rate. Joining the SUKA Facebook group does not mean you are a member)
Book your tickets below!
Menu
Rendang daging (Beef rendang)
Ayam Masak Merah (Chicken in spicy red sauce)
Ketupat (Rice dumpling)
Sambal Ikan Bilis (Anchovy in spicy sauce)
Acar rempit (Vegetarian pickle)
Nasi tomato (Tomato rice)
Nasi putih (Plain rice)
Dalcar sayur (Vegetable stew
Sayur lodeh (Vegetables in coconut curry)
*Menu may be subject to change on the day
Buying your tickets online is safe and secure. However, if you prefer to pay by cheque, please make it payable to 'SUKA' by 10 July to the following address:
SUKA
38 Aldeburgh Street
London
SE10 0RR
Hari Raya Celebrations 2017 – Saturday 15 July