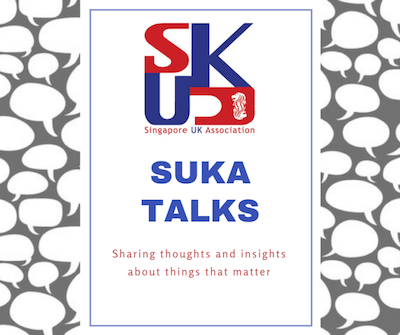 Our inaugural SUKA Talks session aims to provide a platform for SUKA members to share personal thoughts and insights into relevant matters. This time, the theme is 'Sunrise to Sunset' – offering insights into the different phases of one's life.
We will have keynote speaker and SUKA corporate member, Ms Ellen Chew, a successful Singaporean restauranteur (Rasa Sayang, Noodle Oodle, Lotus Leaf, LOBOS and many more) who will be sharing on the joys giving birth to her food business, the pains of starting her business from scratch in the UK, and her tips for achieving success.
This will be followed by Mr Guanlee Wee, loyal SUKA member and SUKA president in early 2000s, who is former General Manager of DBS Bank London and CEO and Executive Director of DBS Securities UK LTD. He'll be sharing his trailblazing journey from the sunrise of his career in newly-independent Singapore, setting up two banks, UOB and DBS, from scratch in London, and keeping active and enjoying life in retirement.
There will be an opportunity for attendees to ask questions and have a discussion in this intimate setting and learn from men and women who have forged a path less travelled.
Date : Tuesday 24th October 2017
Venue : Basement bar of LOBOS, 48 Frith Street, London, W1D 4SF
Time : 6.30pm – 8.00pm
Ticket: Very limited spaces (20 only) – £10 for SUKA Members, £15 for SUKA non-members. This event is being partially subsidised by SUKA. Book your tickets below.
Canapé menu:
– Mixed olives, Padron peppers, Manchego cheese, Patatas bravas, Croquetas
Book your tickets below
SUKA Talks: "Sunrise to Sunset" with Ellen Chew and Guanlee Wee, Tues 24 October, 6.30pm