Join SUKA for Part 2 of  Long Long Time Ago, a movie by Jack Neo.
Last month SUKA's movie night went famously well, as fellow Singaporeans enjoyed a cultured evening over some lite bites.  So don't  miss out on all the fun and reserve your ticket for our next movie night today!
You can read the movie synopsis further below.
Date:  Friday 5th May,  2017
Time: Doors open 7.15pm. Movie begins at 7.30pm sharp. Duration: 107 minutes
Venue: Waterloo Action Centre, 14 Baylis Rd, London SE1 7AA
Cost: £5 at the door (includes film and light snacks)
Note: The movie is in Chinese with English subtitles. The venue is a room in a community hall and not a dedicated cinema, so please be prepared for a bit of background noise and very basic seating.
Advance booking is compulsory. To book, please contact Radha (organiser for this event and SUKA Treasurer) via email: radhavkumar@hotmail.com.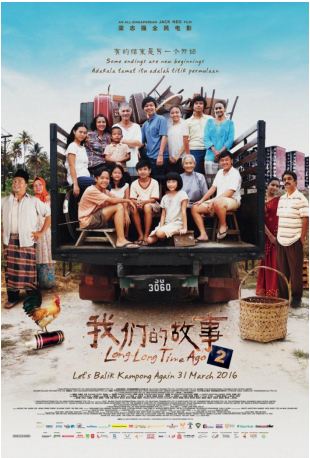 Movie Summary:
Continuing from Long Long Time Ago, Zhao Di takes over her family farm with the help of Ah Long after the 1969 floods. After the government started reclaiming land for development in 1977, licensed owners like Zhao Di are compensated but her brother accuses her of having an affair with Ah Long to get the money for himself. Osman does not approve his son playing in a rock band as he fears the negative influence, causing his son to run away from home. Meanwhile, Ah Hee and Rani decide to get married but their traditional parents object their marriage.
SUKA Movie Night – Friday 5th May, 7.15 pm